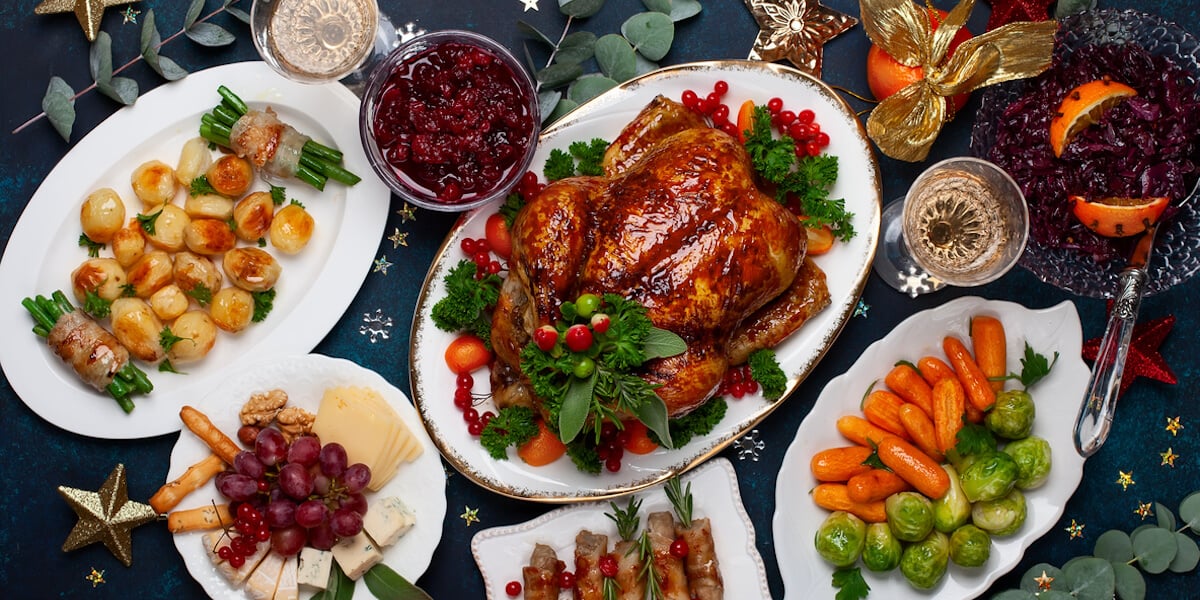 The best Christmas foods in America
The holiday season is a time for family, celebration, and, of course, delicious food. If you're looking to add some variety to your Christmas spread this year, consider incorporating some of these classic American Christmas foods this festive season.
But what are the best Christmas foods?
Best Christmas foods in America are typically a combination of traditional holiday dishes that vary depending on the culture. Common Christmas foods often include roasted meats, various side dishes (such as potatoes, stuffing, and vegetables), desserts (including cakes, pies, and cookies), and drinks (such as eggnog and mulled wine). The special dishes for Christmas include roast turkey and mince pies. Christmas pudding, roast potatoes, stuffing, cranberry sauce, Yorkshire pudding, gravy, Brussels sprouts, roast carrots, roast parsnips, roast chestnuts, pigs in blankets, Christmas cake, fruitcake, shortbread, and eggnog
One of the best Christmas food in America is roast beef. Whether it's prime rib or a more economical cut, roast beef is a traditional main dish for many American families on Christmas Day. It's flavorful, satisfying, and can be easily customized to suit different tastes and dietary preferences.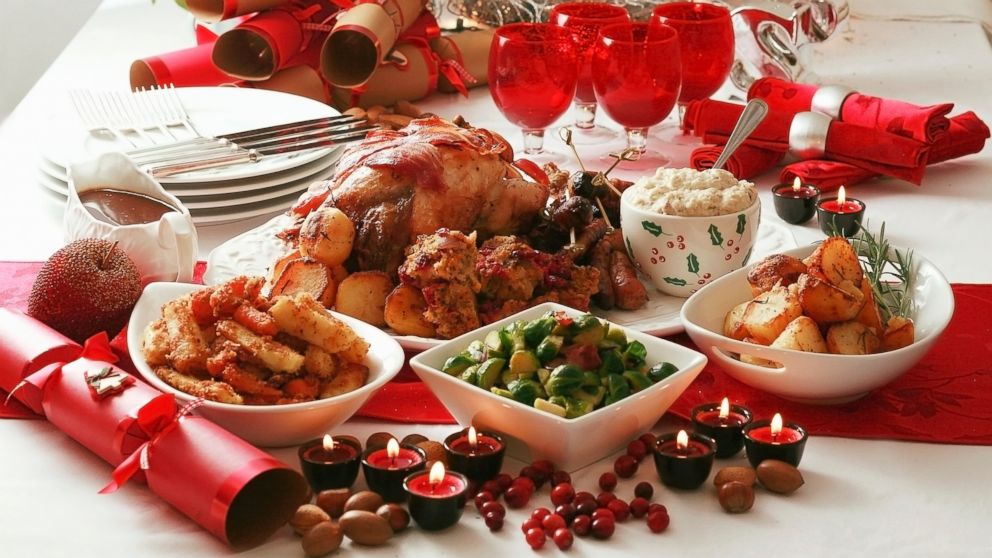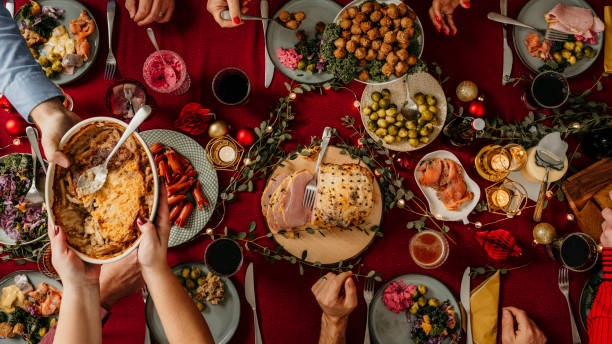 Best Christmas foods; The Last Supper!
Another popular American Christmas food is ham. This delicious, salty meat is often served with a variety of sides, such as sweet potatoes, mashed potatoes, and green beans. In contemporary times, for a twist on the traditional recipe, many Americans are attempting to glaze ham with a mixture of brown sugar, pineapple juice, and mustard for a sweet and savory flavor.
Special dishes for Christmas
The Christmas feast is not complete without a selection of savory sides. Some classic options include stuffing, cranberry sauce, and gravy. For a more unusual twist, consider serving a dish of sweet potato casserole, which combines sweet potatoes with butter, sugar, and marshmallows for a decadent and indulgent side.
In addition to the main dishes and sides, remember dessert! One of the most iconic American Christmas foods is the fruitcake. This dense, fruity cake is often loaded with candied fruit, nuts, and spices, and can be enjoyed on its own or used as the base for a trifle. If fruitcake isn't your thing, consider whipping up a batch of sugar cookies or gingerbread men for a festive sweet treat.
A majority of Americans regard their Christmas spread as incomplete without a drink. Eggnog is a classic holiday beverage that combines milk, sugar, and eggs with a splash of rum or brandy for a rich and creamy treat. Another popular option is hot cocoa, which can be dressed up with whipped cream, marshmallows, and a sprinkle of cinnamon or cocoa powder.
The history of the best Christmas foods is as rich as the food itself!
The traditional Christmas dinner dates back centuries and is rooted in ancient customs and religious traditions. The earliest record of a holiday meal dates back to the Roman Saturnalia festival, which celebrated the winter solstice with a feast that included a pig, a sheep, and a goat. In the Middle Ages, the Christmas meal was a large feast that could include meat from a boar, a deer, a peacock, and a variety of other animals. Over time, the meal became more formalized and often included the traditional holiday dishes we still enjoy today, such as roast turkey, mashed potatoes, stuffing, gravy, and cranberry sauce. In the U.S., the holiday meal was heavily influenced by the cuisine of the British Isles, with the addition of dishes like macaroni and cheese, sweet potatoes, and pumpkin pie.
What are the things to have in mind while placing an order for a Christmas meal?
The holiday season is just around the corner, and it's time to start thinking about ordering your Christmas meal. With so many options to choose from, it can be difficult to decide on the best meal for your family and friends. Here are some things to keep in mind when placing your order for a Christmas meal.
1. Price: Price is always an important factor when deciding on a meal, especially around the holidays. Take into consideration your budget and the number of people you plan on serving.
2. Dietary Restrictions: If any of your guests have dietary restrictions, ensure to ask the catering company what options they have to accommodate them. Most companies will be able to offer alternatives that fit the nutritional needs of your guests.
3. Quality: Quality is the key. Make sure to research the catering company to ensure that the food they provide is of the highest quality. Ask for reviews from past customers, read online reviews, and ask for a sample before placing your order.
4. Variety:Variety is always important when serving a crowd. Make sure to ask the catering company what options they offer in terms of menu items. Look for a service provider that offers a wide selection of dishes so everyone can find something they enjoy.
5. Plan ahead: It's essential to give yourself plenty of time to plan and place your order. This will ensure that you have all the ingredients and dishes you need, and it will also give the restaurant or catering service enough notice to prepare the food.
6. Think about the menu: Determine what dishes you want to serve at your Christmas meal. Do you want a traditional roast turkey with all the trimmings, or are you looking for something a little more creative? Make a list of the dishes you want to include and use it as a guide when placing your order.
7. Choose a reputable restaurant or catering service: It's important to choose a restaurant or catering service that has a good reputation and a track record of delivering high-quality food. Take the time to research different options and read reviews before making your decision.
8: Don't forget the drinks: Don't forget to order beverages for your Christmas meal, including alcoholic and non-alcoholic options. Consider the preferences of your guests and make sure to have a variety of options available.
9. Confirm your order: Once you've placed your order, ensure to confirm all the details with the restaurant or catering service. This includes the date and time of the event, the menu items, and the total cost.
By keeping these things in mind when placing an order for a Christmas meal, you can ensure that your holiday feast is a success. With a little bit of planning and attention to detail, you can create a memorable and enjoyable Christmas celebration for you and your guests.
Conclusion
With these delicious and festive dishes, you'll be well on your way to creating the ultimate American Christmas feast. So gather your loved ones, break out the holiday cheer, and enjoy all the best Christmas foods that America has to offer.